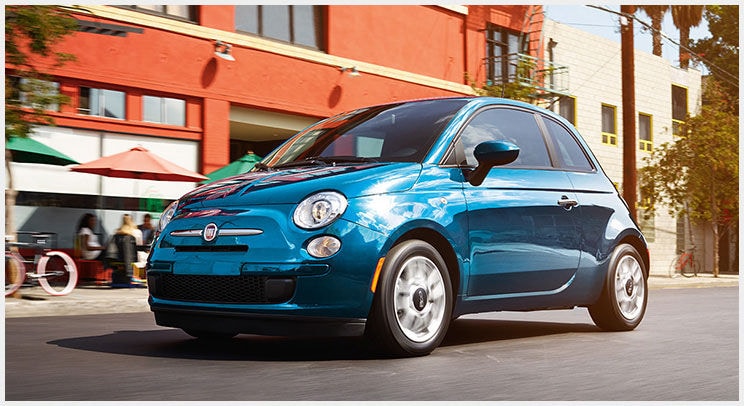 Should You Buy a FIAT 500 from Robert Loehr CDJRSF?
Yes, yes, and right now! The FIAT 500 has continually wowed audiences and catapulted its reputation as one of the best small sports cars available. The vehicle features characterful lines bolstered by pert upright styling that exudes it's Italian design influence. This tiny footprint paired with seemingly toy-like dimensions to help carve out the most indelible impression on everyone who has set eyes on this marvelous vehicle. 
Even so, many people are still on the fence about whether the FIAT 500 will fit into their life. The following information is designed to provide true insight into this vehicle to help you make your own personal decision. 
Variety of Different Styles and Trims
As the best and one of the largest FIAT dealerships in Georgia, Robert Loehr CDJRSF offers several different models of FIAT 500. With so many choices, it's virtually impossible to make a wrong decision. Our wide array of snazzy FIAT 500 models guarantees you can find the perfect vehicle for your individual tastes and needs. Our FIAT models include: 
FIAT 500X Pop
FIAT 500X Easy
FIAT 500X Lounge
FIAT 500X Trekking
FIAT 500X Trekking Plus 
Common Standard FIAT 500 Features
With the FIAT 500, you can choose the model that best suits your needs. However, there are certain attributes that you can expect in all FIAT 500 models, such as: 
Room for up-to four people 
Manual transmission
Top-of-the-line tires
Excellent weight distribution
High ground clearance
Outstanding gas mileage on the highway and in the city
Multi-air engines 
At the same time, the FIAT 500 comes in a wide selection of vibrant and attractive exterior and interior color options. Each classy and handsome trim offers premium cloth seats and a wrapped steering wheel. 
Ample Space in the FIAT 500
Although the FIAT 500 has a small stature, most drivers feel comfortable and have ample space when driving it. Taller drivers do not have to worry about hitting their head on the ceiling or sitting in yoga-like positions while they drive. The classic Italian car maker infused an inordinate amount of space into the FIAT, which allows you to fit a wealth of cargo. In addition, this innovative vehicle offers ample room for passengers. 
FIAT 500 Advanced Safety Features 
The 2017 FIAT 500 is designed to keep you and other passengers as safe as possible. In addition to the standard safety features, the FIAT 500 includes a wealth of advanced safety features. The intuitive backup camera allows you to easily take advantage of tight spaces, parallel parks, and every other instance where you would need to back up to park. 
The whole while, ParkSense warns you of any objects located behind your vehicle, including animals, people, or potentially harmful objects of any size. 
As the ultimate safety tool, the blind spot monitoring system will prove to be instrumental for preventing accidents. This system empowers you to change lanes much more confidently by providing audible signals when an object is in your blind spot you may have missed. 
Excellent Value for a Small Sports Car
If you're in the market for a subcompact sports car, the
FIAT 500 and MINI Cooper
are most likely at the top of your list. As a matter of fact, they may be the only two vehicles on your list. In either case, the FIAT 500 provides an exceptionally higher value. Most importantly, the FIAT can be more than 20% cheaper. If you're looking to get the most bang for your buck, the FIAT 500 is clearly in a class of its own. 
Contact Robert Loehr Chrysler Dodge Jeep RAM SRT & FIAT
Serving Cartersville, Roswell, Acworth & Bartow County, Georgia
Perhaps, the best reason to purchase a FIAT from Robert Loehr CDJRSF is the excellent reputation of FIAT cars. From the beginning of existence up to today, the automaker has been notorious for excellence within the sports car world. Today, it has evolved into a nifty subcompact car and brings all of it's legendary excellence to the sector. When you purchase a FIAT 500 from Robert Loehr Chrysler Dodge Jeep RAM SRT & FIAT, you are purchasing your own piece of FIAT history. 
Complete the
online contact form
or call us at 888-212-0348 today for immediate assistance. Don't forget to
schedule service
for your FIAT here at Robert Loehr CDJR SRT & FIAT in Cartersville, GA.